Scalable, safer, cell-free regenerative medecine.
Evora biosciences develops exosomes-based treatments, the next generation of subcellular therapies.
Primary target : digestive fistula healing
Digestive fistula can be life-impairing for patients, and are linked to a variety of conditions, such as Crohn's Disease, or surgical procedures, such as weight-loss procedures like sleeve gastrectomies.
For complex cases, currently available therapeutic options for patients and clinicians are unsatisfactory. Our lead product EVOGEX aims to dramatically improve patient outcomes in several GI-related indications.
EVOGEX stems from world class research in copolymer gels and exosomes, from CNRS and Paris University laboratories.
Exosomes : the next step in regenerative cell therapy
Exosomes are small vesicles produced by cells, from which they carry some very interesting properties. Stem-cells derived exosomes, in particular, are able to virtually replicate the regenerative properties of their parent cells.
Compared to stem cells, exosomes-based treatments offer simpler and more cost-efficient logistics, and greater ease of use for clinicians.
For patients, research has shown that exosomes have a more advantageous risk profile compared to stem cells : no donor rejection, no proliferation or differentiation risks.
The exosomes used in our treatments are produced with high-yield and scale-up compatible technologies. Compared to current-generation cell therapies, this allows for a 10x increase in production throughput in 10x less time.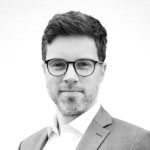 Amanda Silva Brun, PharmD, PhD
Founder &  CSO, CNRS Researcher, Evora patent co-author
Amanda Silva Brun
PharmD, PhD
Galenic pharmacy and exosomes expert. Multiple patents in the field of exosomes.
Prof. Gabriel Rahmi
MD, PhD
Interventional endoscopy and digestive fistula expert.
Nanoparticles and exosomes expert. Multiple patents in the field of exosomes.
Expert in therapeutics applications and high-yield exosomes production. Multiple patents in the field of exosomes.
CNRS Bronze Medal, exosomes and magnetic materials expert. Multple patents in the field of exosomes.
Ex-Roche, 3x biotech entrepreneur
Regulatory expert, former head of french pharma regulator